Making sure your bike is kept clean and regularly maintained is crucial to ensuring that it not only looks good, but that it is also safe and working correctly. Clean and well looked after components run smoothly for longer and wear out nowhere near as quickly as filthy ones, so it should be in your best interest to keep your two-wheeled friend looking spick and span.
There's a whole host of grime removing equipment, products and tools out there so deciding which ones are best for your bike can be a tricky and time-consuming task. Not to worry, though – to help you out we've created this handy guide to give you a quick overview of some of our favourite cleaning products and the benefits they provide.
Bicycle Degreaser
A good degreaser should be an essential part of your cleaning kit. It helps to keep your moving parts clean, particularly your chain, which is vital as a build-up of dirt on your chain will speed up wear throughout the transmission, impacting shifting and reducing efficiency.
Designed to instantly lift and remove stubborn dirt and grime generated from riding, the Monkey Juice Gel Bike Cleaner is the ultimate bicycle degreaser.
The biodegradable Monkey Juice has been specifically formulated to cling to the surface of the bike and penetrate microscopic holes within the dirt, quickly lifting particles away from the surface, all while leaving a dirt repellent finish which slows grime build-up. It makes the process of cleaning your chain, cassette and chainrings much easier and quicker. It's also safe to use on all surfaces, including paint, carbon, rubber and brake components.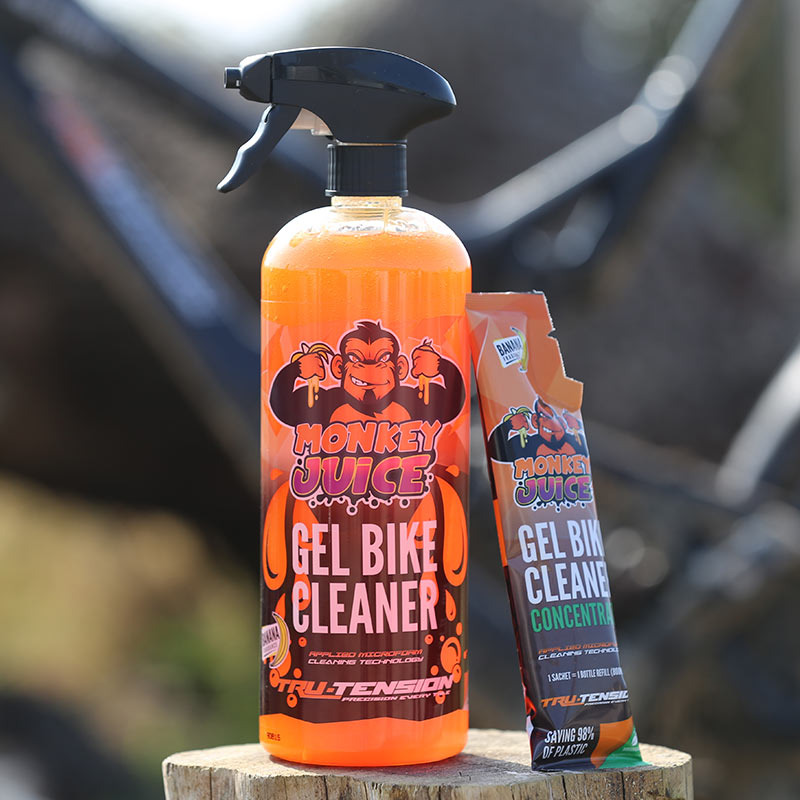 Drivetrain Cleaner
The PrimeShine Cycle Drivetrain Cleaner is the ideal product for looking after your drivetrain. As well as being incredibly effective at removing grease and oil, it also protects against contaminants and corrosion, which is pivotal to keeping your bike in a healthy working order.
Some of the benefits of this cleaner include prolonged sprocket and chain life, increased durability and a smoother ride. It's easy-to-use with minimal effort and its accurate pin nozzle is great for reaching those notoriously tough to access areas.
Bicycle Chain Lube
A high-quality, bicycle-specific lubrication is another product that needs to be in your bike cleaning kit. The environment in which you ride will inevitably be of detriment to your chain – mud and sand increases friction and wear, and rain, snow and road salt will cause your chain to rust. Applying lube to the chain will reduce the impact of these environmental factors and help to preserve the chain's original condition.
The BananaSlip All Weather Lube is a hi-tech blend of water and waxes which provide a silky-smooth and clean running ride like no other. It penetrates all parts of the chain before setting to a completely dry lubricating layer which is resistant to both water and dirt ingress.
Unlike other lubricants which run off with water or attract dirt and dust, this lube (as its name suggests) has been designed for riding in all types of weather conditions.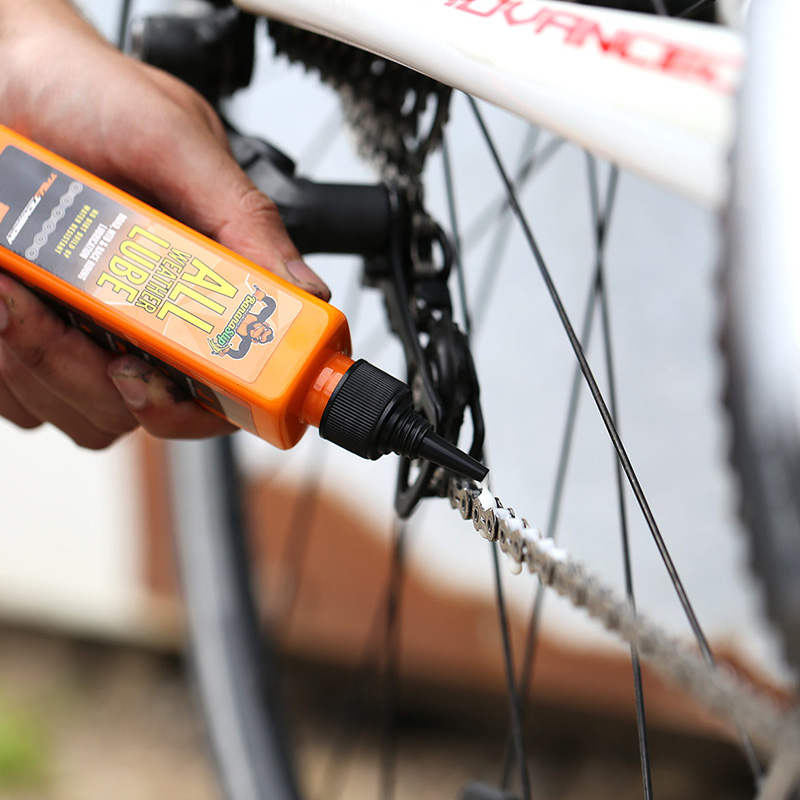 Buy Your Bicycle Cleaning Kit
If you're looking for a comprehensive cleaning kit to help take care of your pride and joy, then look no further than the Cycle Clean & Lube Bundle. Containing all of the products discussed in this article (Monkey Juice Gel Bike Cleaner, PrimeShine Cycle Drivetrain Cleaner and BananaSlip All Weather Lube), it provides you with the perfect formulation to clean and precisely lubricate your bicycle, all for a discounted price!
See more: How Do I Know When My Motorcycle Chain Is Too Loose?
See more: How to Maintain Your Motorcycle's Clutch