Tru-Tension's Tungsten All Weather Lube has been independently proven to be the highest performing cycling lubricant of its type in the world.
Tungsten All Weather Lube is a quick and easy to apply lubricant that sets in just 10 minutes. Completely dry, water-resistant and exceptionally hard-wearing, it is the perfect all-round bike lube for every condition and any bike.
Here we take a deeper look into the data provided by independent test facility Zero Friction Cycles (ZFC) in Australia to determine just how it performed at each stage of the gruelling wear test compared to other drip application (squeezed from a bottle) lubricants with the same relubrication intervals.
Dry Summer / Gravel Riding – For summer riding, which includes a level of sand contamination and dry/dusty conditions, the Tungsten All Weather Lube nearly doubles the lifespan of the chain before reaching maximum wear tolerance compared with its closest competitor. This shows that during dry and dusty conditions the chain stays lubricated for longer and protects moving components. This means your chain and rings last longer, so you spend less on replacements.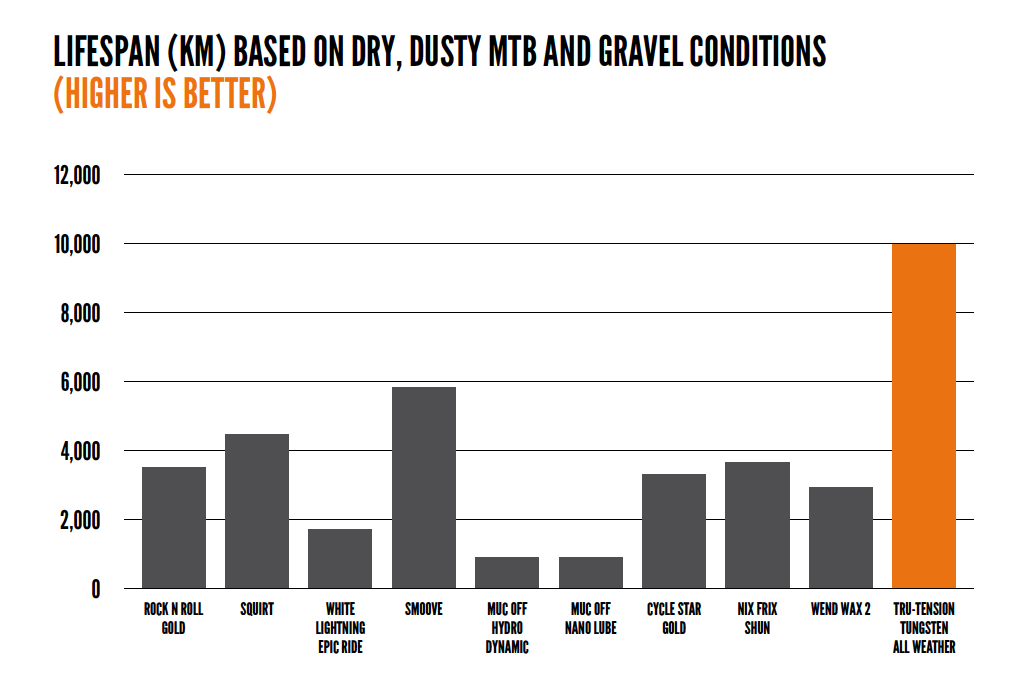 Winter / Wet & Muddy Conditions – During the invasive 6,000km test, a huge amount of water and abrasive contamination (sand etc.) is applied to the moving drivetrain to determine how the lubricant protects the chain and resists abrasive contamination. The Tungsten All Weather Lube was the only drip application lubricant to ever make it past 5,000km of severe wet and muddy testing and makes your chain last 25% longer than the closest competitor. This means it is highly resistant to water and dirt ingress from winter and off-road riding, making it the perfect all-year-round lubricant.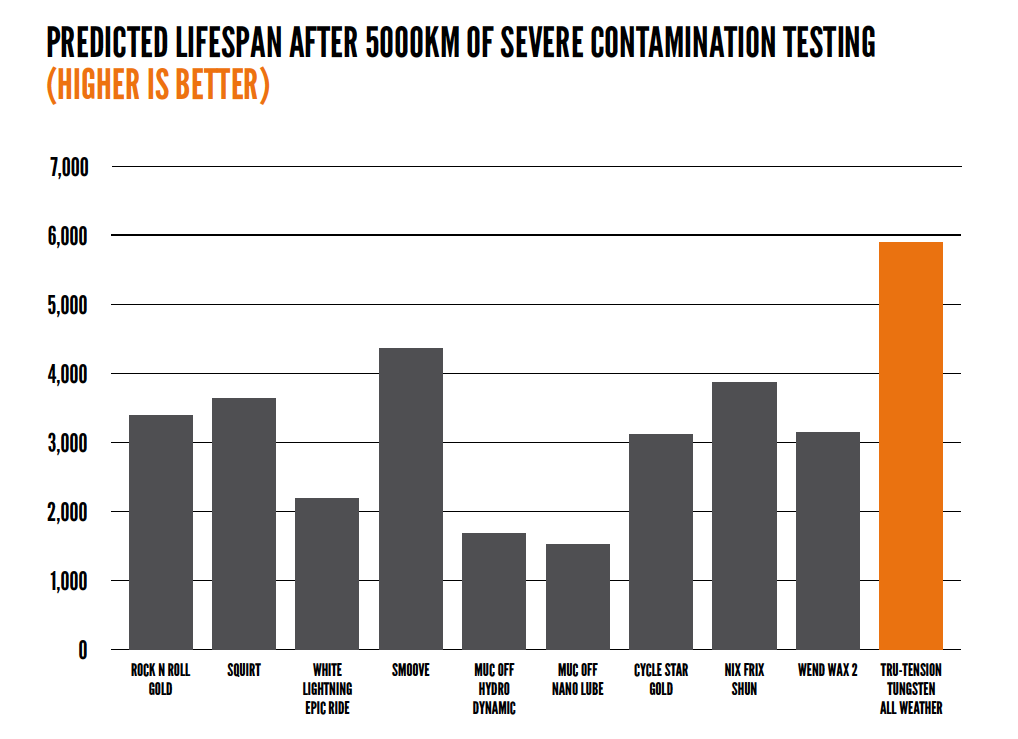 Block 1 – 1000km – Re-lube at 400km / 600km / 400km.  
During the first 1,000km of testing the Tungsten All Weather Lube records a wear rate of 14% which is lower than the average wear rate of others which is recorded at 18%. As a wax-based lubricant it takes a small amount of time for the wax to fully penetrate the links of the chain. It is, however, much lower than other wax-based lubricants which recorded results of 19.1% wear. Once the Tungsten has penetrated the links as the test goes on the performance grows and grows.
Block 2 – Dry contamination block– 1000km to 2000km – 7 points of 5 grams of sandy loam control released on to outside of chain whilst running, and 7 re-lube points.
The second testing block of 1,000km consisted of dry and sandy contamination to replicate summer/gravel/MTB riding when dry.
Tru-Tension's Tungsten All Weather Lube achieved a wear rate of just 10%, which is the best performing lubricant of its type by a significant margin. This means it drastically reduced the wear on the chain compared to any lubricant of the same application in the test.
Adam Kerin from ZFC who conducted the test said
"this is an extremely good result – it is the best result so far of any drip lube. When it is set it acts very similar to solid chain coatings in that dry contamination mostly just bounces off and there is very very little penetration. This makes it highly suitable for dry dusty use such as gravel/cx/mtb riding. It also remained very clean."
Average wear rate for block 2 across 12 publicly tested lubricants is 35.7%, so Tru-Tension Tungsten All Weather is a standout performer in dry contamination conditions.
Block 3 – 2000km to 3000km – clean block no contamination added, re-lubed at 2000km, 2400km, 2600km & 3000km.
The Tungsten All Weather Lube performed consistently throughout the first three wear blocks achieving a wear rate of 12%. With no contamination added during this 1,000km test, it showed that very little, if any, abrasive material penetrated the pins while the lubricant was used during block 2 where significant dry contamination was added.
Adam from ZFC added,
"It is holding up proof that really very little abrasive dry contamination penetrated. For lubricants that had a notable increase in wear in block 2, this often continues into block 3 as most lubricants cannot clear contamination once it has absorbed it. It is a very consistent and very low wear rate across the first 3 blocks."
The average wear rate for clean block 3 is 24.5% which puts the Tungsten All Weather Lube once again significantly lower in terms of wear compared to its competitors.
Block 4 – Wet contamination block – 3000km to 4000km – 7 points of 500ml water sprayed on to running chain in very similar manner to front wheel spraying chain with water from road, and 5 grams of sandy loam added each time. 7 re-lube points.
During this hugely invasive test of water and abrasive contamination, the Tungsten All Weather Lube performed substantially better than any other wax-based lubricant. It achieved a wear rate of 31%, which is 17.7% lower than the next best performing wax-based lubricant. This shows its ability to perform in both dry and wet conditions while also preventing contamination from entering the pins.
Adam from ZFC explains,
"Average wear rate for block 4 is 34.5% so it is still better than average, and remember only 7 of 12 lubes have made it to this level in the test to even be assessed in this harsh test block"
Block 5 – 4000km to 5000km – clean block no contamination – re-lube at 4000km, 4400km, 4600km and 5000km.
At this point only five lubricants, including Tru-Tension's very own Tungsten All Weather Lube, have made it to wear block 5. Due to the extreme conditions and running length, most lubricants have exceeded their wear limits and have therefore not continued the test. Our Tungsten lubricant achieved just 18% wear, which is 10% below the average wear rate of 28% for this wear block. This is unfounded territory for a drip application lubricant as only one double application lube and one hot wax lube have ever made it to the end without exceeding wear limits. These lubricants, however, use considerably more lubricant, have substantially longer setting times and one requires the chain to be removed and submerged in hot wax in order to treat.
This alone makes the Tungsten All Weather Lube a game changer with its quick and easy application and being ready to ride in just 10 minutes! Not only that, but it doesn't hold the dirt due to it being completely dry which ensures it sheds any debris in a short space of time.
Adam explained a bit more about the significance of this wear block result
"It is the highest performing drip lube publicly tested at standard re-lube intervals and achieved a much better job than expected of clearing contamination for a wax based lubricant. Typically wax based lubricants that set to a semi solid stated contamination that does penetrate is typically fairly well land locked in there, and adding more lubricant does little to improve. By basically halving its (Tungsten All Weather Lube) wear rate after block 4 it has shown a much greater than average ability to clear contamination unlike smoove where one really needs to perform a full solvent clean post wet rides or next rides in the sun are still like one is riding in the wet, and smoove is tough clean, and a tough re-application – so Tru-Tension All Weather really has a lot of benefits here – if one doesn't get around to doing a full clean post wet ride, it will drop its wear levels pretty well over the next couple of applications, and – if one does decide to do a full flush clean, it is vastly easier to clean than smoove /squirt – and with much lower penetration issues on re-lube. "
Block 6 – 5000km to 6000km – Extreme Contamination block – 14 points of added contamination of 1 litre of water sprayed and 10 grams of sandy loam added. 7 re-lube points same as per previous contamination blocks.
The sixth and final block test from 5,000km to 6,000km consists of significantly increased contamination and water being sprayed onto the drivetrain. Only three lubricants have ever made it to this test; all others have exceeded wear at block 5 or before. Even with the other two lubricants on the test having far less user-friendly methods of application, the Tru-Tension Tungsten All Weather Lube recorded the lowest wear rate of any lube ever tested.
This goes to show that the lubricant we have spent two years developing exceeds all expectations and performs better than any other lubricant of its type on the market.
Adam from ZFC explains a bit more about this extraordinary achievement:
"Tru-Tension completed block 6 at 107% of wear rate allowance so only over wear rate allocation by 7% or 0.035 of mm – so it basically came within a very close margin of completing the entire main test block which no other drip lube at standard re-lube has achieved – all other drip lubes at standard re-lubrication intervals have exceeded wear allowance before the end of block 5 and not even been tested in block 6 – their block 6 results are extrapolated from their block 4 performance as a very approximate indicator."

"Tru tension recorded the lowest wear rate for block 6 – beating even mspeedwax and UFO drip, where the amount of contamination thrown at it between re-lubes has abraded through the treatment so they have been running for x km's each interval with no lube / little lube left. Mspeedwax had a massive jump in this block so the conditions were simply too much for the treatment lifepspans – had it (Tungsten All Weather Lube) been re-waxed at the same doubled intervals UFO Drip was re-lubed, it would have been vastly lower."
End of main test conclusion
The Tungsten All Weather Lube by Tru-Tension has proven that it is the best drip application lubricant tested on the market. With significantly lower wear rates than any other drip lubricant it vastly extends the life of the drivetrain thus saving the rider money. It is also easy to apply with just a 10-minute set time and extremely clean during running. It is even easier to clean than other wax-based lubricants, making it a far more practical all-round lubricant.
Adam from ZFC added his thoughts on the cleanliness of the chain following 6,000km of testing:
"Tru-Tension was still impressively clean despite all the contamination thrown at it and the number of re-lubes. There was not a big gunky mess like squirt/smoove – and it was much easier to clean at end of test to get chain ready for single application longevity test."
Tru-Tension Tungsten All Weather Lube – Independent data has proven that it truly is the best drip application cycling lubricant on the market and a game-changer for the cycling industry.
Achieve lower running costs, more miles, quick application and easy maintenance with Tru-Tension Tungsten All Weather Lube!