Over the May Bank Holiday weekend, we completed the 36 hour Iron Butt Brit Butt Rally, finishing in 11th place, recording the highest mileage of 1,733 miles.
Here's our rider's story of sleep, speed, swindle and success!
Day 1 – Friday 25th May
After arriving at the hotel in Leicester at around 1:30pm and checking in with the Iron Butt crew, my bike was scrutinised and I was set on my way to the next motorway junction and back, for the 20 mile odometer check.
Upon returning with exactly 20.00 miles on the clock, I gave my chain some loving with the BananaSlip Chain Wax I would be testing for long distance riding, dumped my stuff in my room and went to Tesco around the corner to get some supplies for the ride and for the morning. We'd be getting up at around 4am – well before the Premier Inn chefs!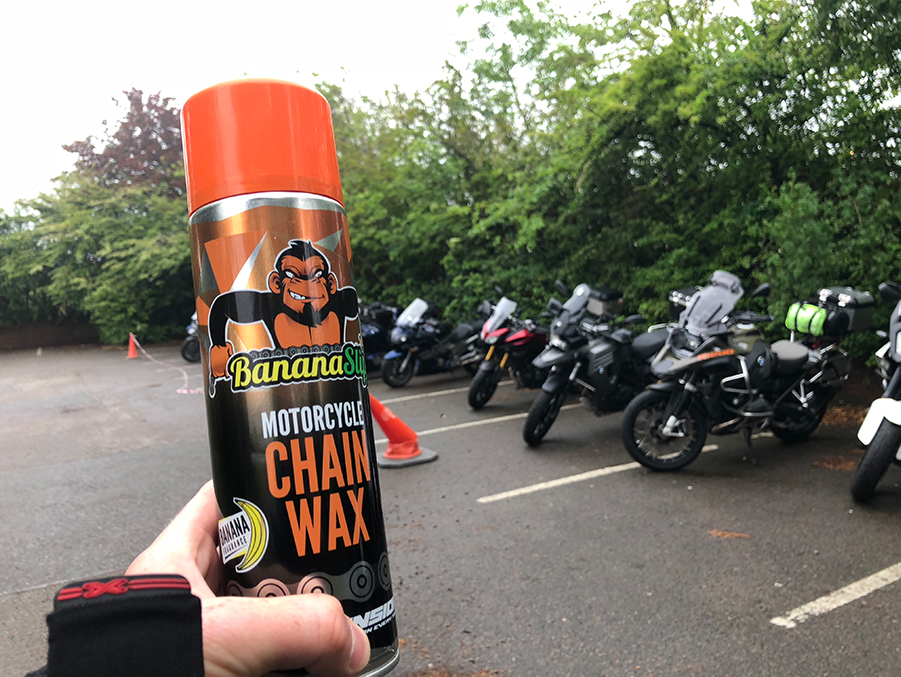 I knew I needed to leave early to avoid traffic as a method of off-setting the time I would be wasting filling up my fuel tank. My Tracer 900 can do around 170 miles per tank, but I had already clocked other competitors on Adventure Edition BMW GS's with custom external fuel tanks in the car park, with a 500-mile trip capacity. Of all the bikes lined up, mine was probably the least ideal, and despite my efforts to refine a petrol stop to under 6 minutes – that would soon add up over the 36 hours.
The Briefing
After dinner and a briefing presentation from the team, we were told that the locations we needed to find and snap a photo of ourselves at would be organized into both categories and regions. Collecting multiple points within a given category (Viaducts, for example) or multiple locations within a given region, would result in extra bonus points.
With the much-awaited rally book in hand, I dashed back to my room at about 8:30pm, hoping to have my route sorted by 10pm. I set about viewing the bonus point locations on Google Maps.
With many rules and new processes for this year, I knew it would be easy to make mistakes and lose out on valuable bonus points. As time ticked on, I began to panic – my routes just weren't coming together, and I had the IBA President's words of wisdom ringing in my ears:
"For your first rally, don't be the guy who doesn't make it back in time, and always leave yourself an escape route".
By escape route, he meant planning your route in a manner that you could always cut it short and return to the hotel in time; so heading to the tip of Scotland with a few hours to go was not a wise move, for example.
Oops…
Unfortunately, I has misunderstood a rule about how to collect bonus points. Riders are required to ensure that their rally flag (or laminated number, as was this year) is in the photo, but I had wrongly assumed that the bike had to be in every photo too, as they always had been in any photos I had seen from previous rallies.
There were indeed some occasions where you were required to take a photo of your bike at a given location, but I only realized my mistake mid-way through the weekend when I saw a Facebook post from another rider smiling widely holding just his rally number.
My misunderstanding impacted on my planning, as I just couldn't understand how you could possibly get your motorbike into a photo with some of the locations. I didn't fancy riding/pushing my bike through a graveyard to get to a famous statue, for example.
By 9:30pm, I had barely made any progress. My tiny fuel tank was hampering almost all of my plans, and my misunderstanding was causing confusion. I then decided to keep it simple: I would attempt to visit the whole Football Stadium category and pick up any other locations on the way if I had time. It was a tad ambitious, but by heading to Scotland first, it would leave me with plenty of "escape routes" as I came back towards the South.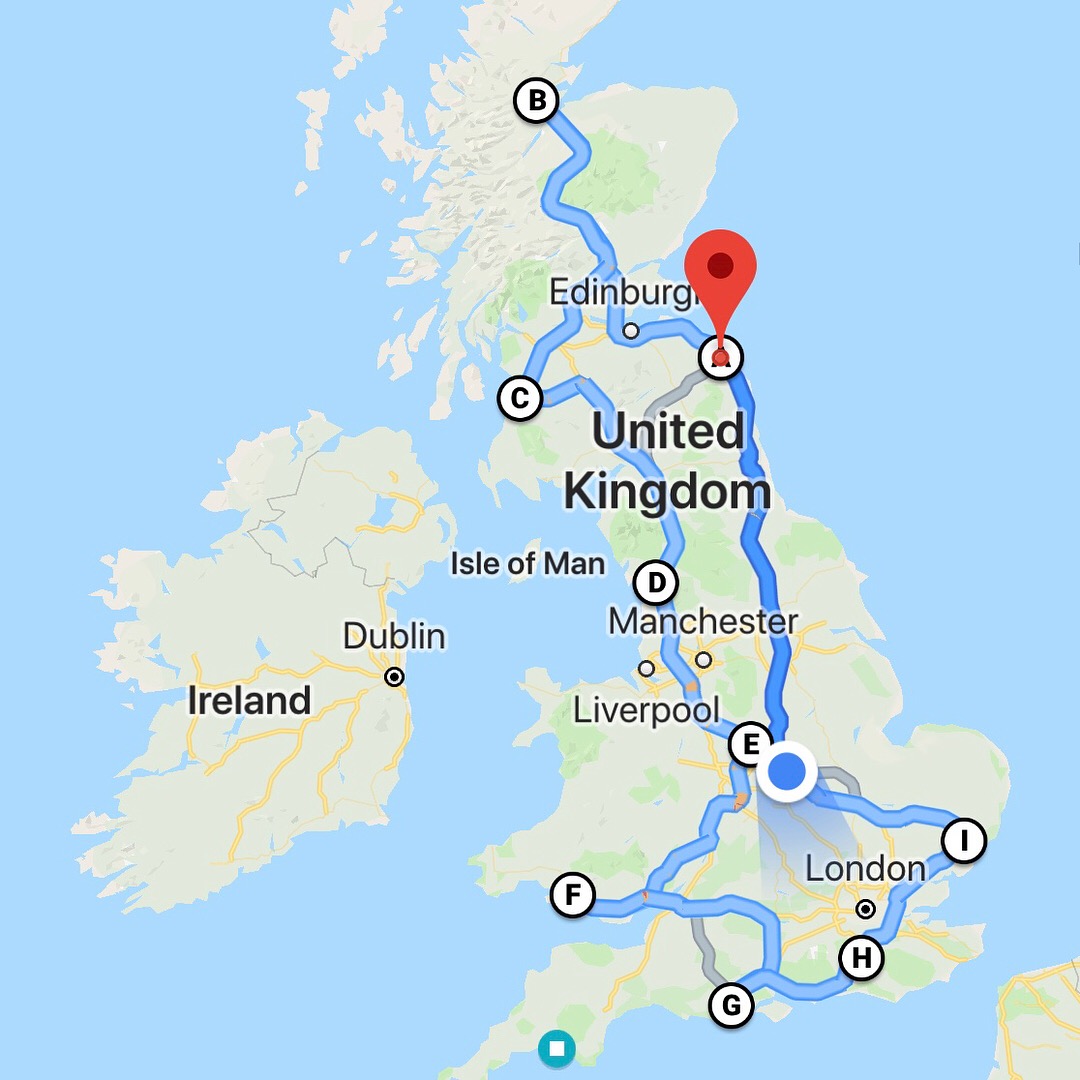 I hit the hay at 11:30pm (thanks to a few issues with the TomTom), but the pressure of needing to sleep really didn't help me nod off at all. Plus, I was pretty excited for the morning.­­
Day 2 – Saturday 26th May
I awoke to the horrendous iPhone alarm at 04:20, jumped up and started getting dressed and eating breakfast (cereal bars and a banana). I was pleased with my ingenious idea of perching a bottle of fresh orange juice outside of the room window to keep cool (you'll thank me the next time your hotel room doesn't have a mini fridge).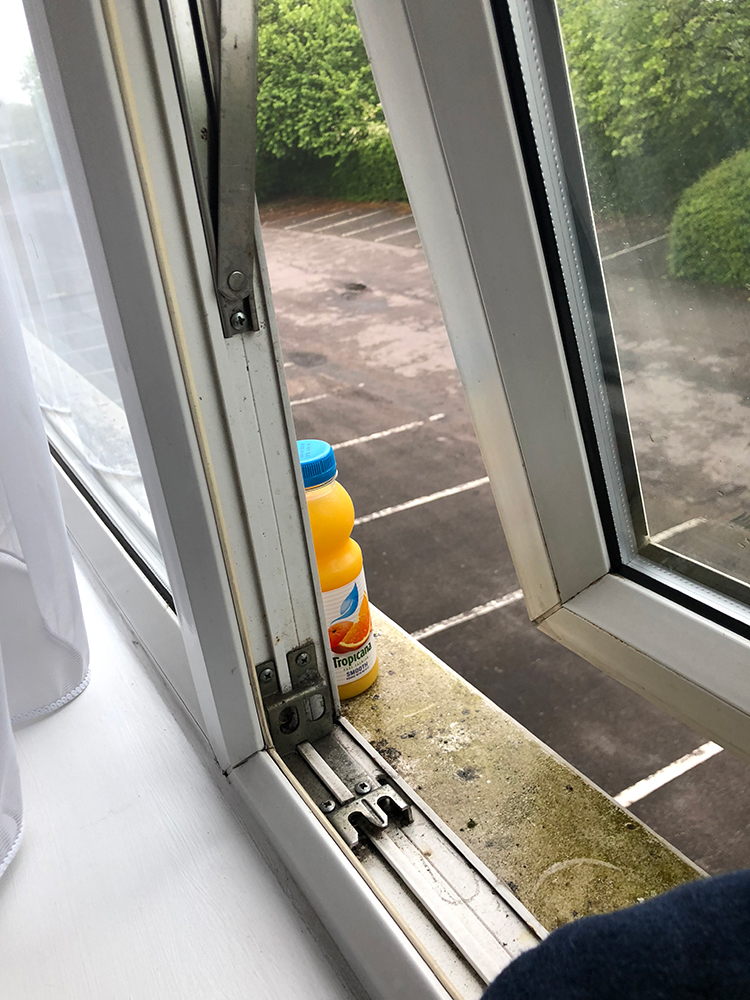 As I was making my final trip out of the hotel, I turned to see two other bikers walking towards me, struggling with all their gear. As much as I wanted to get on my bike as quickly as possible, I thought I'd be a good sport and hold the door open for them. They laughed and correctly assumed that I must be a novice – "It's each for their own from here, pal" they joked.
As we walked towards the line of bikes, one of them stopped in their tracks "My f*****g bike's gone!".
It was nowhere to be seen, just an empty gap in the line of bikes. That was the end of his Iron Butt. It was later found a few streets away, with the hotel blaming travelers who had pitched up nearby.
While the victim and his brother went to inspect the CCTV, I attached my top box to the bike, and at 5am, emailed a photograph of my odometer to the Rally Master who gave me the nod, and hit the road.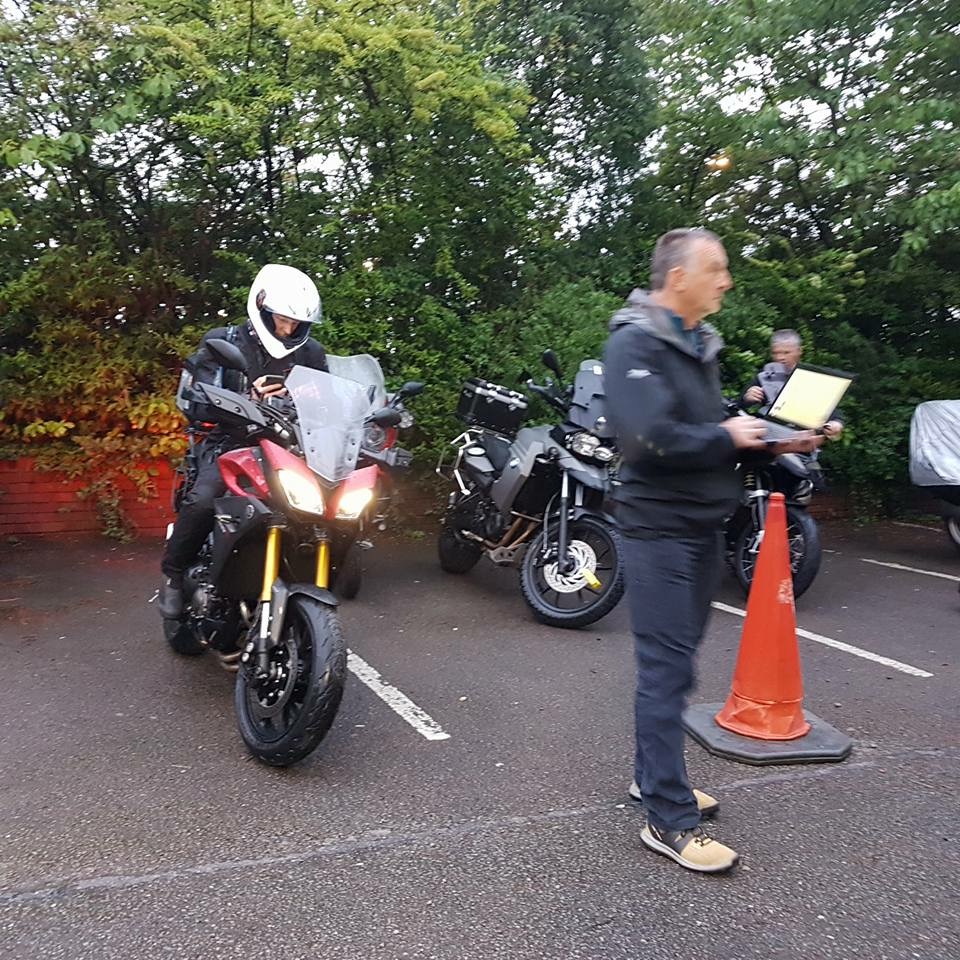 .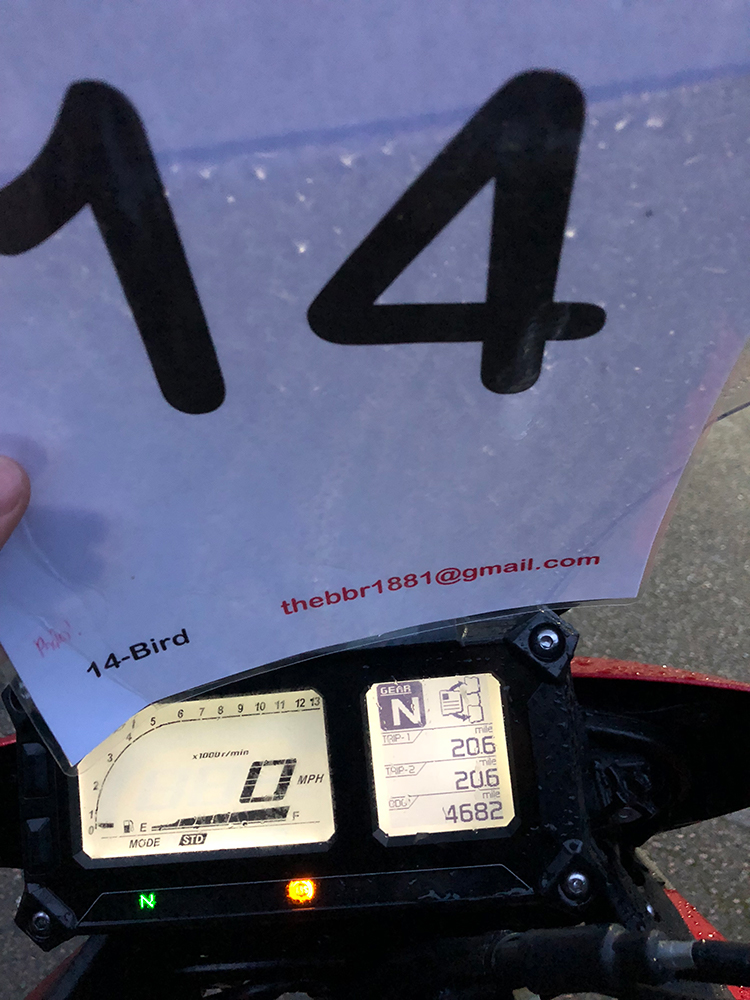 Heading to Scotland and earning £20
With all the excitement, the morning absolutely flew by. I was up to Ross County Football Club via Edinburgh and the (stunning) Cairngorms with just under 500 miles under my belt by 12:30pm, with just the one fuel scare on the way up! Must keep an eye…
Before I got back on my bike, I decided to take a 5-minute break to take on a few cereal bars and check my schedule. As I took the necessary photo of my bike in front of the stadium, an older Scot approached me to ask what I was doing. I couldn't hear him very well due to my ear plugs, but he seemed shocked that I had made it up from Leicester that morning. The next thing I knew, he was shoving something into my jacket pocket with a smile. It was a Scottish £20 note. I thanked him and assured him I would give it to charity, as I think that was his intention.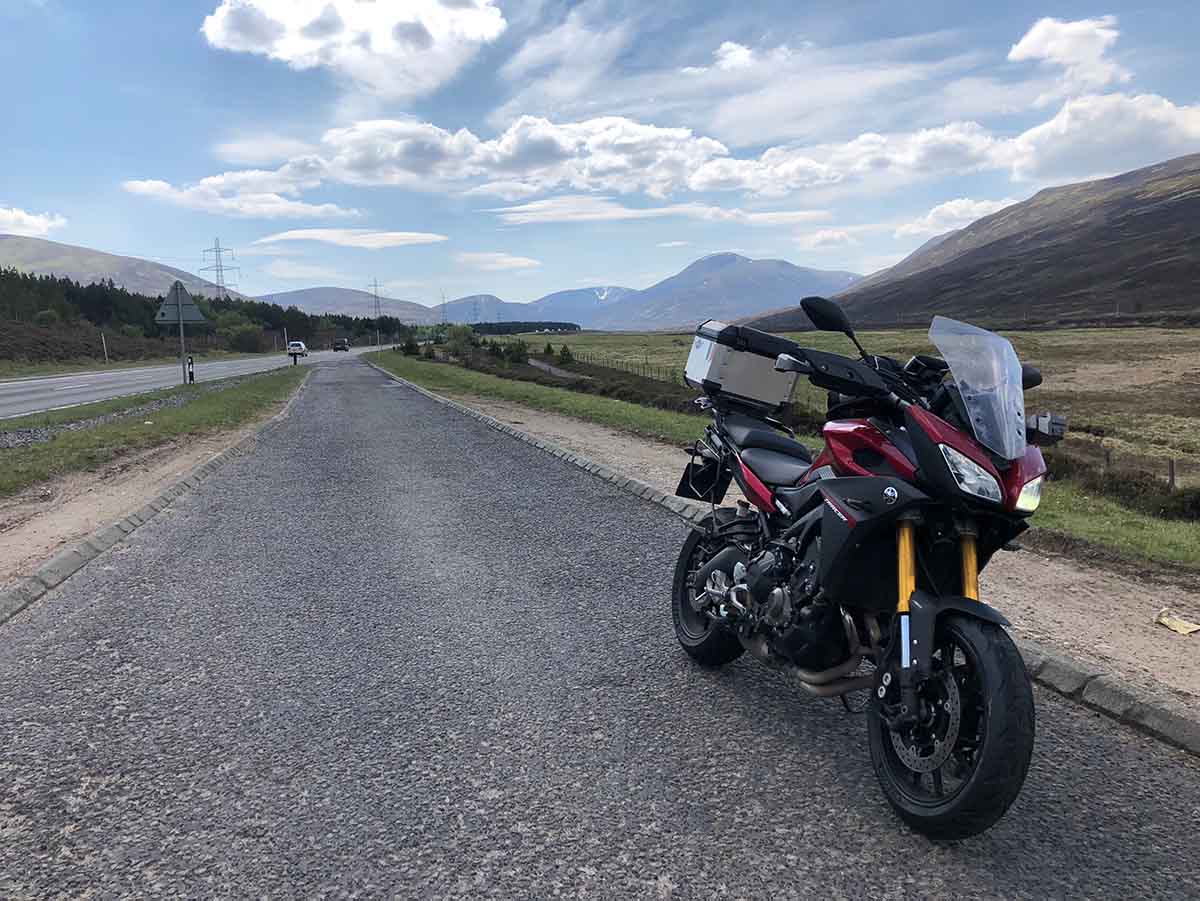 On the way back through the Cairngorms, I just had to stop to get a photo.
Due to the lack of traffic at 5am, I was almost 45 minutes ahead of schedule, so I opted to go for my optional addition, the Billy Connolly Mural in Glasgow which I suspected would be easy to find. It was, and the city traffic was light, so I was well on my way to Ayr in good time.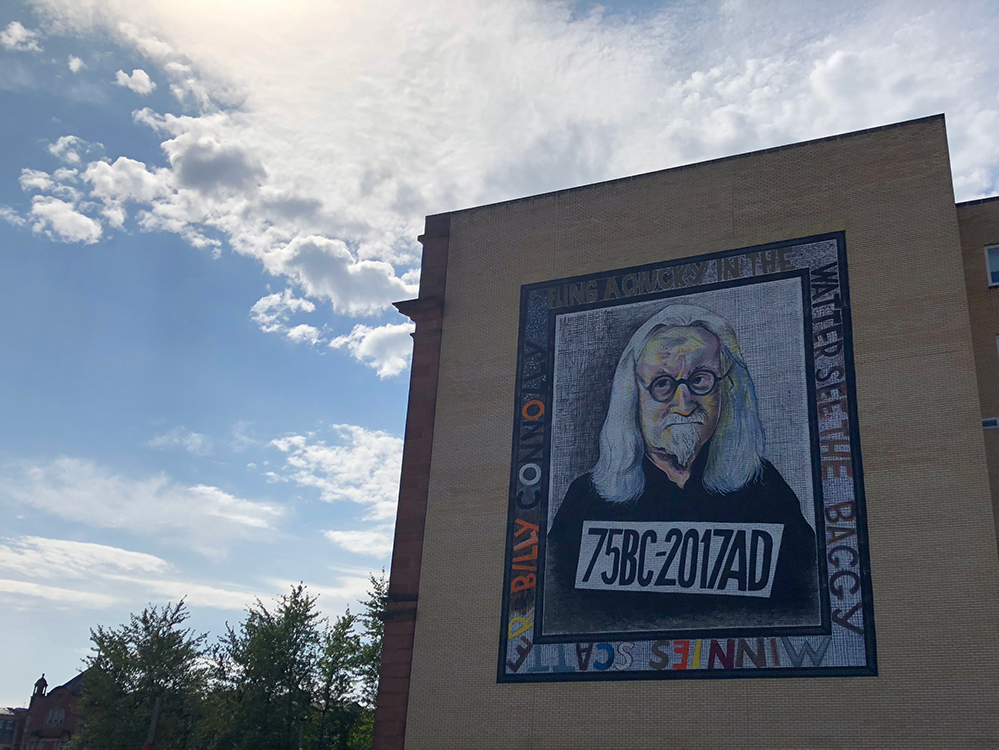 En-route to Glasgow, it was pretty heartbreaking to ride past the signs to Fort William, which was a big point scorer. Knowing it was just a 1 hour diversion was tempting, but I knew deep down I didn't have time. Bloody petrol tank.
My new aim was to visit Ayr United FC and Morecambe's stadium, and get as far south as I could by the compulsory stop time of 10pm, to give myself the best chance for Sunday.
I finished the day a couple of hours ahead of schedule at a 24 hour McDonald's and less than one mile from Burton Albion FC, which would be my first stop when I could get moving again at 4am.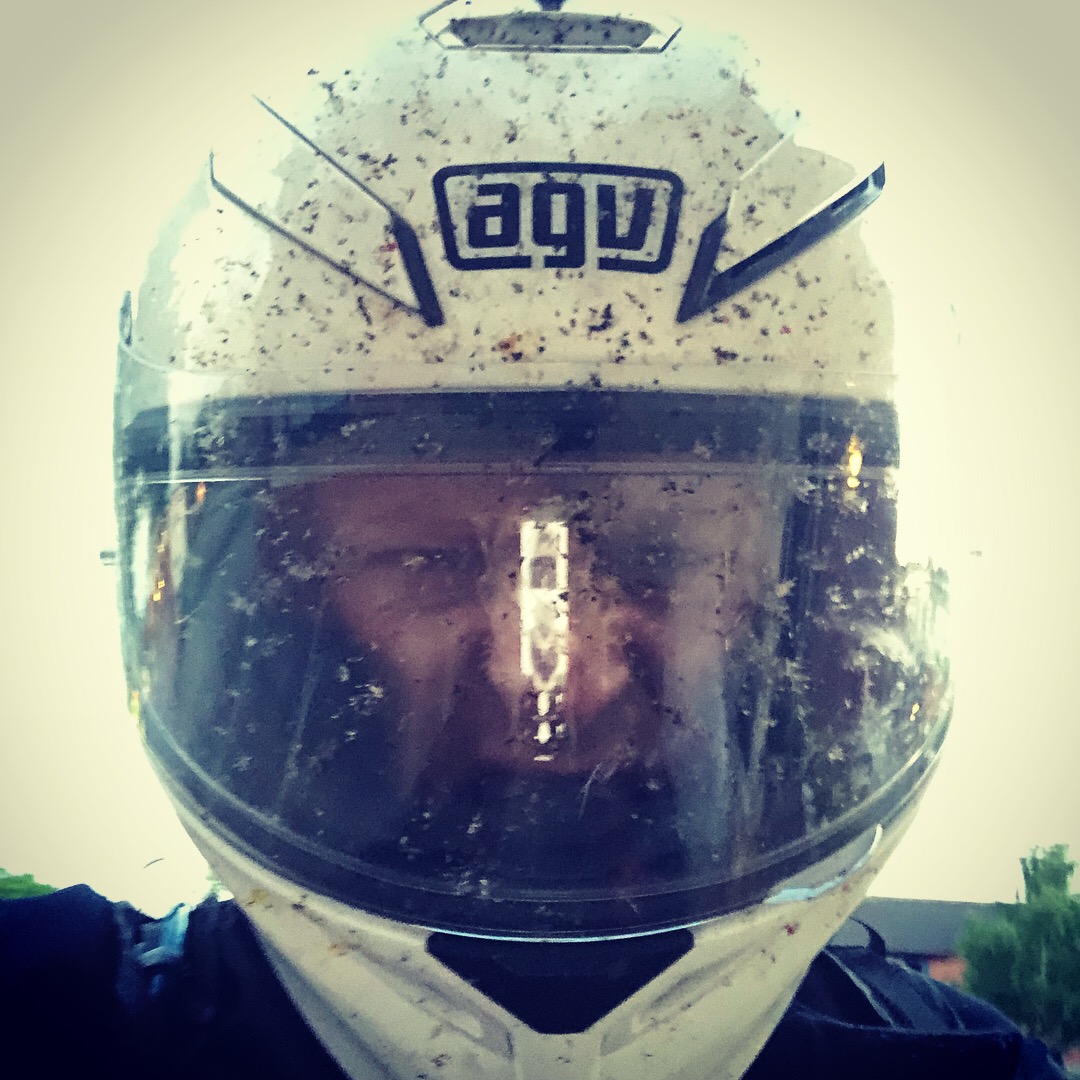 McDonald's provided a great opportunity to give my lid a proper clean.
Being unable to make it to decent accommodation was not my only serious mistake. After seeing a competitor's images on Facebook as I devoured a Chicken Legend, I now become aware that my motorcycle did not need to be in every photo. Hmm. A quick calculation made it clear that I could bin off the football stadiums, complete much fewer miles the following day and finish with only slightly fewer points.
From bad to worse…
Longing for a comfy bed, I tried to snooze in McDonalds, but alas, at midnight the drunks turned up fighting, laughing and crying. The tiny voice in my head that questioned what on earth I was doing, grew louder with the biblical thunderstorm that battered me as I sat in the car park with a pizza box over my head trying to get some sleep on my travel pillow. I decided lying next to the bike in a quiet corner was the lesser of two evils.
The glamourous life of a motorcyclist, hey?
Day 3 – Sunday 27th May
As 4am came, so did the hailstones. It's crazy to think that less than 16 hours before, I had been riding in the picturesque, scorching hot Cairngorms.
With a renewed determination to finish the football tour, I popped around the corner to the Burton Albion stadium, quickly got my dark and grainy snap and aimed for Wales, taking a slight detour to a nearby point-scoring church.
Ahead of schedule and taking advantage
Whilst riding along the motorway, I was able to calculate that I was about 1.5 hours ahead of schedule, and I had time to take another valuable and beautiful detour to Saint Briavel's Castle near the Welsh/English border as the sun rose.
From Saint Briavels, I sailed along the M4 towards Swansea City FC in much-appreciated sunshine. I couldn't believe how fresh and bright I felt, considering my torrid attempt at getting rest. I zipped in to the Swansea stadium, apologized to the marathon runners giving me funny looks for riding through their under-construction meeting point, filled up with petrol and headed for Bournemouth.
The body clock comes calling
Then, as I passed agonisingly close to my home town in Bristol, father time caught up with me – big style.
The rain returned and I was exhausted. I could feel my eyelids drooping and I was beginning to lose concentration. It seemed that from Swansea to Bristol, my body clock was no longer agreeing with the Iron Butt.
I stopped at the earliest opportunity – Leigh Delamere service station near Chippenham. I was 20 minutes ahead of schedule, but needed to stop for far longer than that. I was in trouble. I filled up the bike, bought a couple of sausage rolls and a mountain of chocolate and peanut M&Ms, and managed to snooze in the car park.
My phone alarm woke me half an hour later. Finding myself 10 minutes behind schedule, it was now or never, to have a chance of achieving the football stadium bonus. Just heading back to Leicester from here seemed a tough ask.
I gritted my teeth, got back on the bike and headed South towards Bournemouth, eating little and often as many others had recommended. In my case, that meant fumbling an M&M into my mouth from my tank bag every 3 miles.
Oh Deer…
I tried to keep as active as I could on the bike by sitting in different positions, singing, dancing, opening vents for fresh air and just trying to focus on the next 3 miles. On a country road in Salisbury, I enthusiastically opened the throttle to overtake a dithering car that I had been stuck behind. As I returned to my side of the road, a Deer that had been startled by my exhaust came bounding out of the hedgerow and narrowly missed me. That woke me up and taught me a lesson!
After about an hour of fighting the exhaustion, I had broken through the wall. In what seemed like an instant, I had a new energy and I no longer felt tired as I approached Bournemouth FC.
With much irony, at this location, I actually did need my bike in the photo, and the security guard wouldn't let me get close enough! I waited until he moved on, quickly pushed my bike into position, got the photo and pushed it back without him noticing.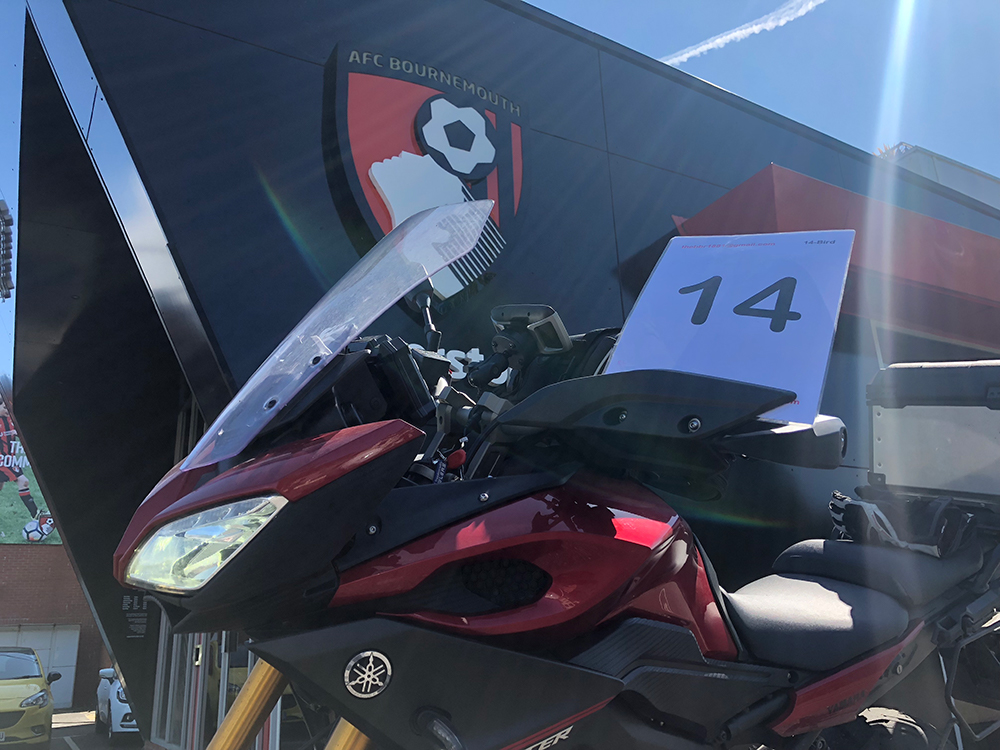 As I swung my leg over the bike, I was now only 2 minutes behind schedule, but I was now heading for Crawley and Ipswich Town, virtually needing to circumnavigate the M25 on a Bank Holiday weekend. I'm not sure if it was the M&Ms or the uncertainty and excitement that was keeping me awake, but I was feeling good and zoomed off to Crawley.
Once I arrived at Crawley, nothing had changed. I was unable to make up any time against the Sat Nav. I was now very hot, too many layers on, but I knew it would take me at least 10 minutes to take off my gear and attach it to the bike properly. I opted to keep going, but opened up my gear as much as I could.
Chaos and excitement
The M25 was as expected, hectic. What's worse, I was losing time due to congestion at the Dartford Tunnel. I was almost 18 minutes behind schedule by the time the roads towards Ipswich opened up – which they did in some style. They weren't much to look at, but empty dual carriageways were a joy to my sore hands and overheating engine.
I arrived at Ipswich FC, but struggled to find the exact sign I needed to photograph. After a few trips around the stadium, I eventually found it down an unassuming access road. Sneaky Rally Master!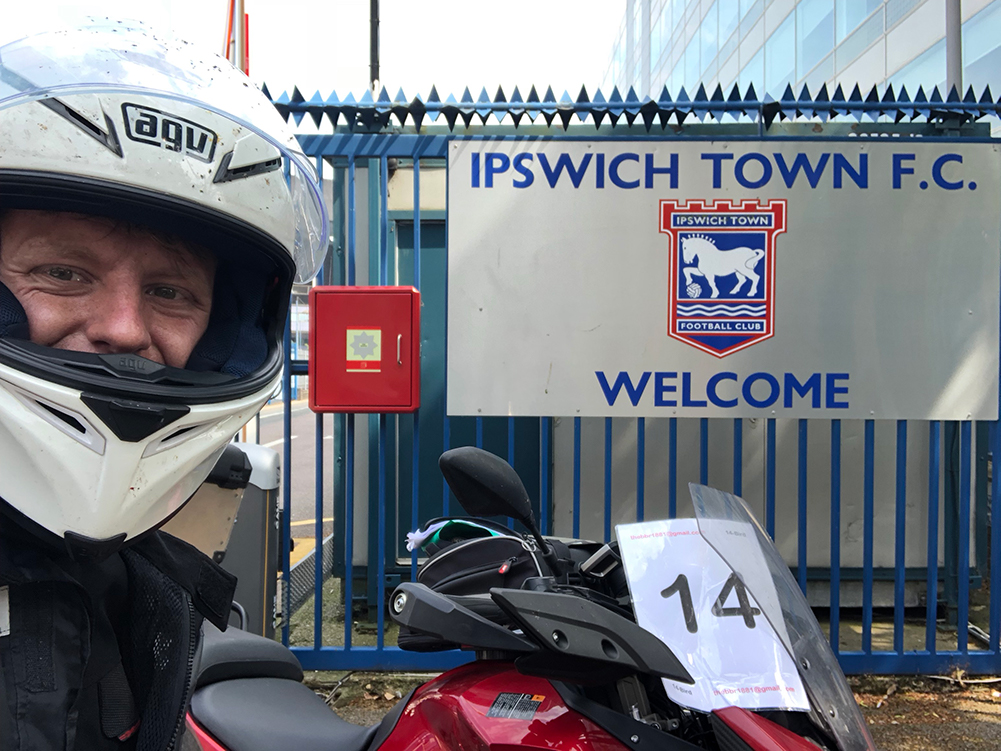 As you can see, I was delighted!
I had done it – but now I needed to get back to Leicester before the rally ended. The few seconds it took my Sat Nav to load the route and give me an ETA was nerve-wracking.
Biting off more than I could chew
My predicted arrival time was 19:10 – 10 minutes too late, and I still needed petrol. I quickly pulled out my phone to try Google Maps instead – 19:03. The thought that I might not make it back after all the time, effort and money was sickening – along with the embarrassment of being the rookie who bit off more than he could chew.
It was now or never. I went to the nearest petrol station and hoped that I would get a clear run back to Leicester. The miles and miles of 40mph average speed cameras towards the city did not help my cause, and I was constantly watching the Sat Nav tease me with the elusive 18:59 arrival time.
As I approached Leicester, I began to see other riders on their own return mission, but I knew they had more time than I did as I was one of the first to leave.
After many miles of filtering, open sections of motorway and still eating the odd M&M, I made it back to the car park packed with motorcycles with just 10 minutes to spare. Exhausted and elated!
The End!
I raced up to my room for a shower and a clean change of clothes before joining the others for beer and food before the evening presentation, which I heard was much quicker to organize than previous years thanks to the new email/photo points system.
At the presentation we saw some of the more funny photos that riders had submitted throughout the day, along with some hilarious clangers where riders had made mistakes in their photos (trees in the way of their locations, for example). It was a great laugh, and I was pleased to finish in 11th place having ridden 1,733 miles, the most of any rider. AND, I made £20 (later given to charity of course!).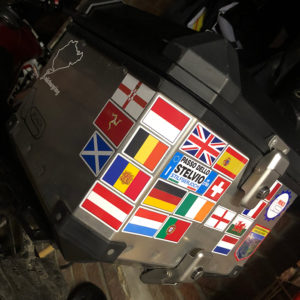 It felt great to add another flag to my top box, having never ridden in Scotland before.
As I retired to my room for a much needed kip, I was pleased to have finished well and realized that my simple yet high mileage point scoring tactic wasn't as bad as I thought, despite my misunderstanding. Many others had made tiny mistakes (such as forgetting to photograph their rally number) in their efforts to score bonuses, and therefore missed out on the juicy points.
The top riders of course made no mistakes and were efficient in their planning and riding.
After some valuable lessons and a rollercoaster experience, I'm excited to return next year with Tru-Tension, with the hopes of bettering my 11th place finish with better planning and an external fuel tank.
My Tracer was filthy by the time I got home, but I was pleased with how well the BananaSlip Chain Wax held up in the face of such relentless riding. After 1,700 miles, my chain was sagging and my bike was filthy, so I whipped out the Chain Monkey and the Body Work Foam Cleaner before tucking it away for a well-deserved rest.
Keep up to date with all the events Tru-Tension enter on our Facebook, Instagram and Twitter.