There seems to be an app for everything nowadays, and many have been created to benefit us motorcycle fanatics. Below we have outlined some of our favourite apps, but if you enjoy and recommend of any other apps, please let us know by leaving a comment on our Facebook page.
Rever
Rever is a free app that allows you to connect with motorcycle riders from across the globe! Available on both iOS and Android, Rever records your rides, and also lets you navigate planned rides and stay connected with the riding community. This app is perfect if you are looking to ride new routes that other riders have enjoyed and recommended, and also if you want to share some of your favourite routes.
Pirelli Diablo Super Biker
Particularly useful for sport riders, this app tracks different aspects of performance. Not only does this app track a rider's speed and route, but it also calculates your lean angle using the gyroscope in your phone! If you're attending a track day, this app is a must have as lap times can be recorded, and any data collated on this app can be easily shared on social media – perfect if you want to show off your lap times to your friends!
CRADAR 
Hopefully you will never need to use this app, but it is handy to have installed and ready to go if it is required. If you are unfortunate enough to ever be involved in a crash or collision, CRADAR uses the accelerometer in your phone to detect the incident and alert an emergency contact. A text message that states your location will be delivered to your emergency contacts (if you don't deactivate the text in a set time period) so that help can be sent as quickly as possible.
Google Maps
Whenever I'm touring or riding in unfamiliar places, I often have to pull to the side of the road so that I can load Google Maps and find the way to my destination, and so far, it has never let me down! If you aren't the best with directions, or are frequently riding in unknown locations, this is an essential app to have installed on your phone.
Dark Sky
Riding in poor weather conditions isn't just dangerous, it can also be incredibly miserable. Unfortunately, this app can't control the weather, but it can give you the latest and most accurate weather forecasts. This app can tell you whether you are likely to encounter a wet patch, and can predict the weather for a location at any time, reducing the chances of you getting caught out in the rain.
Other handy items for motorcyclists
This isn't an app, but physical tools, such as your Chain Monkey and Wheel Monkey are two instruments that no biker can live without. No apps are able to correctly set the tension of your chain, nor can they help with easy cleaning and maintenance of wheels, so make sure you always have handy tools like these at the ready.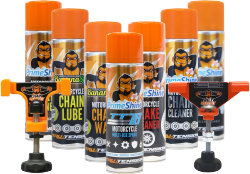 See more: What to take to a motorcycle track day
See more: What do bikers think of driverless cars?