Here at Tru-Tension, we're passionate about helping motorcyclists all over the world to keep their bike in tip-top condition. We've manufactured a wide range of innovative and industry-leading products, all of which are designed to enable riders to perform essential day to day maintenance tasks on their motorbikes. Our Chain Monkey for example, allows motorsport enthusiasts to precisely and quickly set their chain tension, and our Laser Monkey provides accurate wheel alignment regardless of sprocket or pulley material.
One of our latest products is the Monkey Juice Gel Bike Cleaner and is the perfect solution for those looking to add a reliable motorbike cleaner to their maintenance kit. Let us explain a bit more about it…
What is the Monkey Juice Gel Bike Cleaner?
The Monkey Juice Gel Bike Cleaner is a specifically formulated degreaser for motorbikes, cars and bicycles designed to instantly lift and remove stubborn dirt and grime.
Unlike other bike cleaners that run off or evaporate, Monkey Juice comprises of specialist microscopic foam that clings to your bike's surface – it stays exactly where you've sprayed it. This ensures a superior clean as all dirt is quickly lifted from the entire surface, allowing you to easily and effortlessly clean the bodywork even without a brush (which reduces the risk of scratches).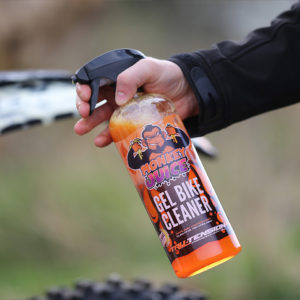 It contains no salts, chemicals or harmful substances and is 100% biodegradable. It's also safe to use on all surfaces, including paint, carbon, rubber, aluminium and anodised components.
You also aren't required to buy a completely new bottle of the Monkey Juice Gel every time you run out as our handy sized concentrate refill sachets allow you to refill your spray bottle. Just add water to the refill line in the empty bottle, tear the top off the sachet and pour the concentrate in, rotate until the solution is mixed, wait 3 minutes and you're ready to go again! Saving money and plastic – what's not to love?!
Oh, we almost forgot to mention… the juice also leaves a lovely, fresh banana scent on your bike!
Purchase the Monkey Juice Gel Bike Cleaner >
Tips for Cleaning Your Motorcycle
Whether you're using the Monkey Juice Gel Bike Cleaner or not, here are some of our top tips for preserving your motorbike's beautiful appearance –
We advise cleaning your bike on a regular basis to protect the surface finish and inspect for any damage or wear.
Find a shady spot to wash and dry your bike. The sun can dry detergents on the surface before you have a chance to rinse them off, therefore leaving unattractive marks, splotches and streaks.
Keep a close eye out for dead insects – they too can scar surfaces.
Avoid using any products that aren't specifically designed for your bike's surface. It's possible they contain harsh detergents or chemical solvents that may damage the plastic, metal or paint.
Wait until your machine is cool before cleaning it. If you've just been on a ride and your exhaust and engine is still warm, make yourself a nice cuppa and wait 10 or so minutes.
We recommend avoiding high-pressure water hoses and sprays as they can force water into components and remove grease, potentially leading to damage.
Once you've finished cleaning, dry your bike by starting the engine and letting it run for a few minutes.
Braking can be less responsive immediately after washing so as soon as you've finished cleaning and drying, be sure to lubricate your chain.
Looking after your motorcycle doesn't have to be a complicated task. As long as you're frequently giving it a thorough clean and are using the right types of products, such as our Monkey Juice Gel Bike Cleaner, you'll be well on your way to helping ensure it stays gleaming.
See more: How to Maintain your Motorcycle's Clutch
See more: Best Apps for Motorcyclists