With the current Covid-19 outbreak, it looks as though we will be locked inside for the foreseeable future. And for us cyclists, this means that we probably won't be able to get out on the bike for a little while – those long-awaited Spring rides will have to wait a just a bit longer.
However, this doesn't mean that we can't exercise at all. Regular exercise is essential for staying fit and healthy, so it's important we keep ourselves ticking over during this period.
There's plenty of ways we can get our daily dose of exercise in even when staying at home. And to give you some inspiration and ideas for getting started, we've put together this handy guide listing some of our favourite home-based fitness activities.
Exercise Bike
If you own an exercise bike then you will already be accustomed to this in-house way of keeping fit. Although it's not quite the same as heading out the door for a long weekend's ride, they do allow you to enjoy the same health benefits and performance improvements from the comfort of your own home.
Not only can you pedal in front of the TV, but the latest indoor bike trainers can even be linked up to training apps to simulate real routes. The resistance will automatically change to match that of the terrain and at the end of the ride you'll be provided with detailed statistics on your performance.
Or if this feature isn't available on your bike, another good method of training is HIIT (high-intensity interval training). This type of workout focuses on using short bursts of activity with short resting periods. It provides a wealth of benefits, including fat loss, muscle gain and improved oxygen consumption.
Create Your Own Circuit
Even if you don't have your own indoor training bike you can still get some worthwhile training in. Muscle strengthening, for example, enables you to burn calories whilst also building and toning muscle.
Create your own full-body workout circuit by choosing basic exercises that target different areas of your body. Press-ups, squats, leg lifts and other exercises like planks, burpees, lunges and sit-ups require no equipment and make for a great strength building workout that gets your heart rate up too. You can customise your circuit to suit you and your capabilities, but a popular routine to follow is to do 3 rounds of each exercise for 45 seconds of work, followed by 30 seconds of rest.
YouTube Workouts
If you're looking for more guidance and instruction during your home exercise, there are thousands of tutorials and workout videos available on YouTube. Whether you're looking for a leg workout, a quick core blast or want to try something like yoga or Zumba, you're certain to find something suitable online.
Most videos don't require any specialist equipment – some may advise you utilise a dumbbell or kettlebell, but if you don't have these you can improvise and use household objects, such as a bottle of water.
Stair Exercises
Taking your workout to the stairs is an effective method for strengthening your leg muscles and improving cardio. The repetitive step motion helps to tone your lower body whilst working your core muscles at the same time.
Some people choose to simply run up and down the stairs for 1 minute, rest, and then repeat. However, you can also consider incorporating lunges and squats into your workout to keep your training varied.
This is a great way of engaging your glutes, hamstrings, quadriceps and core whilst also burning fat and cranking up your heart rate.
It's important you have good balance and concentration when exercising on the stairs – one misstep can lead to a fall and thus injury.
Clean Your Bike
Now this isn't an exercise or a fitness workout, but why not use this downtime to show your bike some TLC? If you've been out riding in the past few months your bike will have probably picked up a fair bit of dirt, mud and grime, all of which can cause damage to your bike if not taken care of.
A popular bicycle cleaning product is the Monkey Juice Gel Bike Cleaner. Specifically designed to lift and remove stubborn dirt generated from riding, the juice clings to the surface of the bike and penetrates microscopic holes within the dirt, quickly lifting particles away from the surface. It also leaves a dirt repellent finish which slows grime build-up in the future.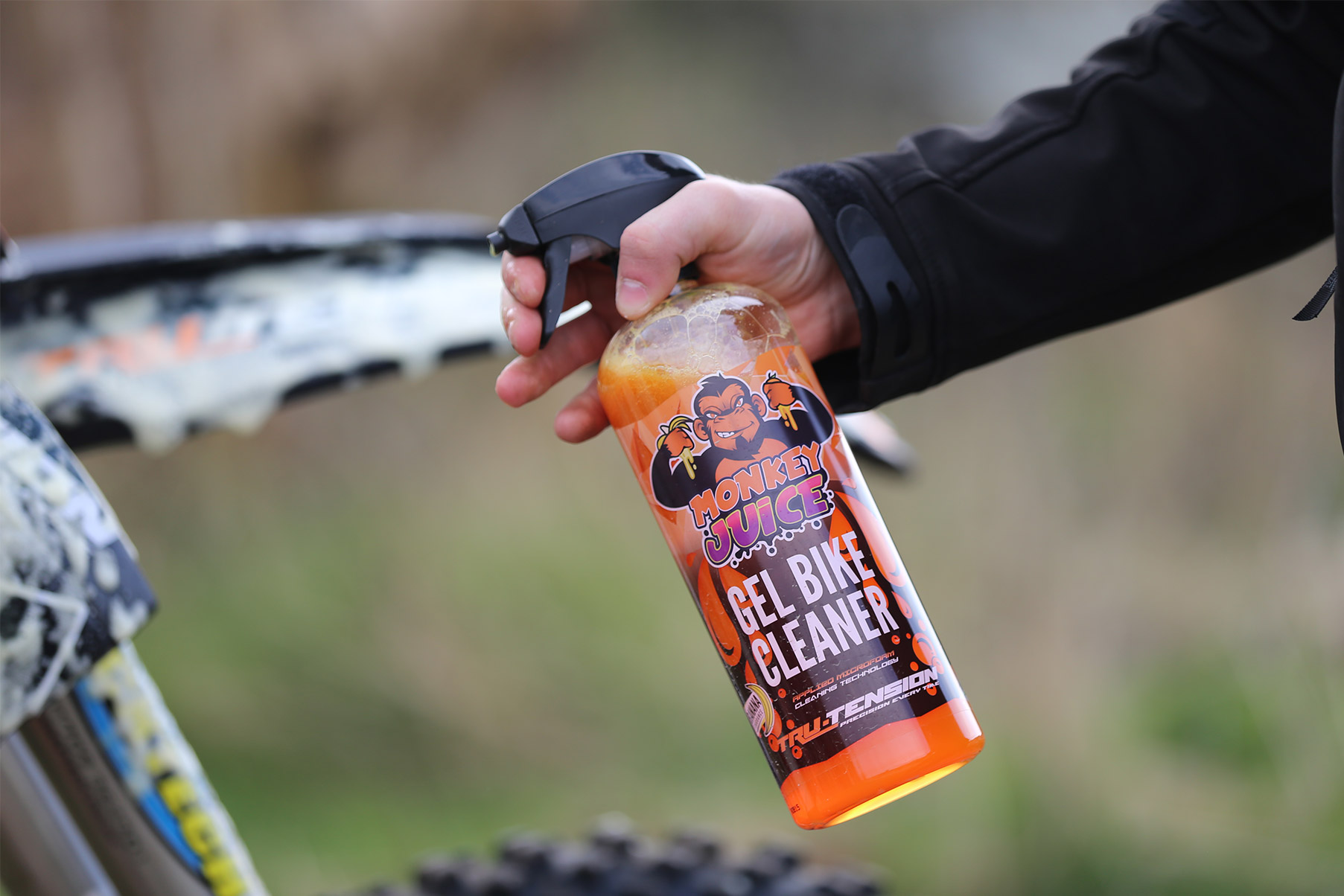 And if you're looking to remove dirt, dust, carbon and oil-build up from your braking components, take a look at the Cycle Brake Cleaner. Perfect for Road, MTB and E-Bikes, this product is easy to use and instantly removes dirt, providing you with optimum braking performance for your bike.