Since our Dragons' Den investment, we've spent the past two years investing in innovation within the motorcycling and cycling industry.
Every product we launch adds great benefit to what is already on the market, from our world-first chain tension tool Chain Monkey, to our surface sticking Monkey Juice Gel Bike Cleaner.
One thing we were keen to do was to improve the cycling lubrication market, going above and beyond the competition in terms of performance and wear resistance.
What is Tungsten All Weather Lube?
Tungsten All Weather Lube by Tru-Tension is the world's first cycling lubricant using the friction modifier Tungsten Disulphide. Its super slippery properties and hard-wearing characteristics make it game-changing for cycling lubricant performance and application.
Being a dual viscosity lubricant (it changes thickness) it is thin when applied – which allows it to penetrate the pins and parts of the chain where the lubricant is needed. After 10 minutes, the Tungsten All Weather Lube becomes a completely dry wax-based layer that is resistant to water and dust ingress.
Tru-Tension's Tungsten All Weather Lube can be used on any chain-driven bike including road bikes, MTB, CX and E-Bikes. It comes in a slightly oversized bottle which allows enough room for our two special compound formulations to correctly mix when shaken before use.
Tungsten, also known as WS2, is a super lubricious compound which under pressure smooths out the surfaces of the chain and protects it from wear while in motion.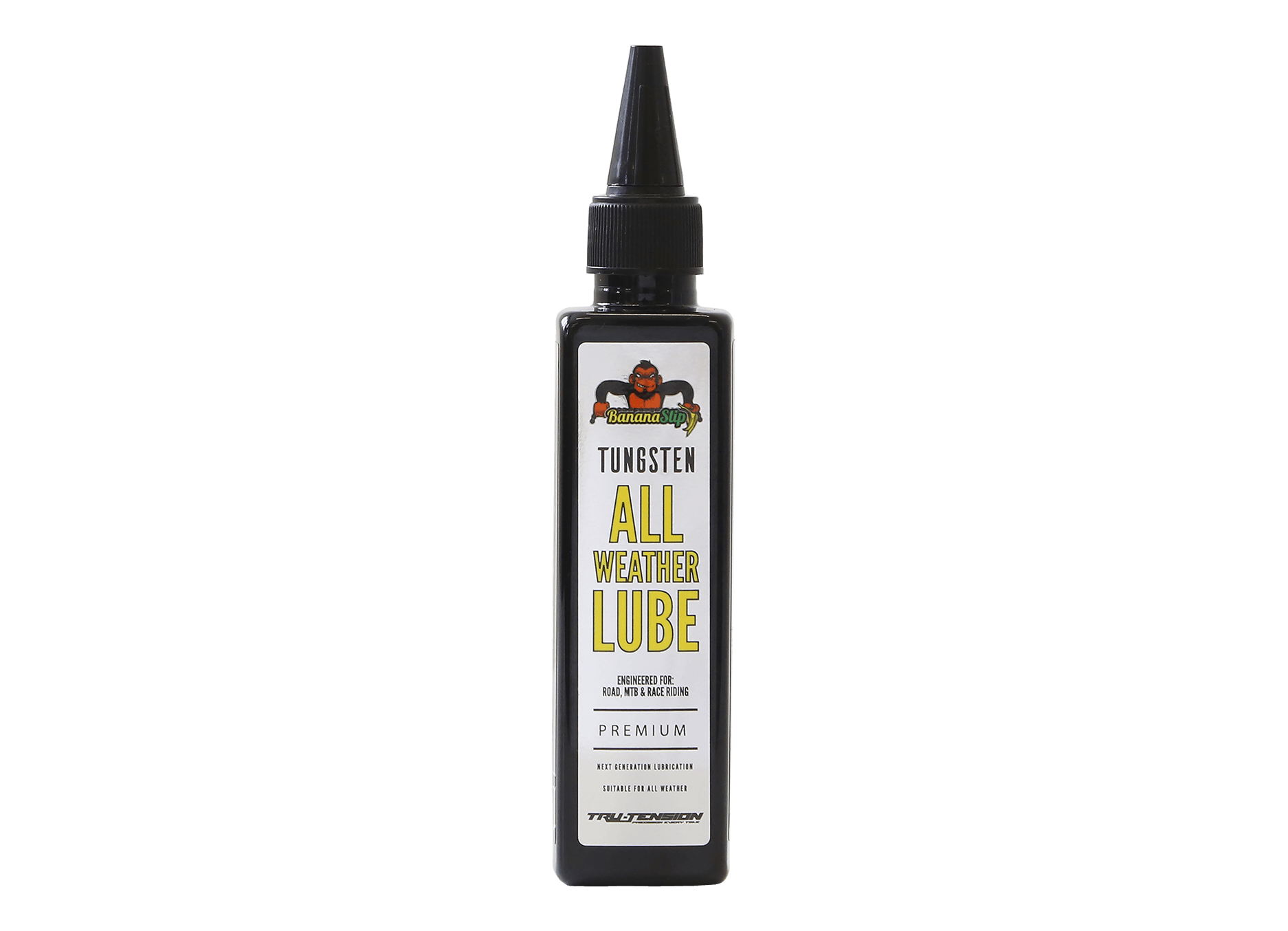 Originally designed by NASA for use in space projects due to its performance and stability, we've spent two years extensively testing and developing our formulation to blend it with a complex array of water-based, biodegradable waxes.
When applied, the Tungsten All Weather Lube works its way into all areas of the chain and provides a fast and durable surface which prolongs chain life better than any other drip application lubricant on the market. Not only is it effective,  but also extremely clean during use, significantly reducing mess and keeping your chain looking like new even after thousands of miles.
The result is quite simply the best all-round lubricant on the market. Quick and easy to apply, the Tungsten All Weather Lube sets within 10 minutes and is super clean and reduces wear over any other drip lubricant on the market -what's not to love?!
Don't just take our word for it though; independent test facility Zero Friction Cycling (ZFC) in Australia have tested our Tungsten All Weather Lube over thousands of gruelling kilometres in their lab and in real-life situations to understand its characteristics and wear rates comparing data to other well-known lubricants.
ZFC have released the data for the Tungsten All Weather Lube and the results are staggering – See them here